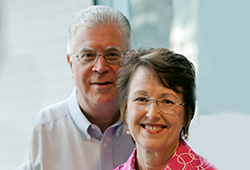 Thousands of graduates know a degree from Bryan College of Health Sciences is their entry to exciting and fulfilling careers.
Just ask Cathy Hershberger and her husband, Greg. Her 1970 diploma from Bryan College of Nursing allowed Cathy to work in hospitals throughout the United States, as Greg's positions while a federal law enforcement officer took the couple to communities in eight states and the District of Columbia.
She credits the clinical experience she gained as a Bryan student for giving her advantages in the job market — and now she's helping others achieve their dreams.
This year the Hershbergers established the Catherine Skelley Hershberger Scholarship, which will be awarded annually to nursing students from smaller Nebraska towns. The first scholarship was awarded in the fall, and Cathy and Greg have met that scholarship recipient.
Cathy has fond memories of her time at Bryan.
"As students we actually scrubbed in and helped circulate in the O.R.," she recalls. "I loved working in surgery and chose that as my career. As a nurse, I sometimes felt sorry for students from other programs, whose only experience in the O.R. often was as little as a one-day observation.
"Bryan graduates are much better prepared."
The couple met at Bryan while Greg — then a University of Nebraska student — was an orderly in surgery and Cathy worked in surgery and the recovery room.
"I always say, ?We met behind the mask,'" Cathy teases her husband. "We married during Greg's senior year, and after graduation we moved away from Lincoln. It's been a wonderful life, and I've always been able to find nursing opportunities that interested me."
The Hershbergers became involved in financial planning long before most couples.
"After my retirement, Cathy's aunt died unexpectedly, but she didn't leave a will," Greg says. "That made it more difficult to straighten out her finances, and it became an impetus for us to make sure our own estate plans were in order. Before we were 40, we made sure we had a will and had begun planning for our retirement."
Greg retired in his mid-fifties, and recently they moved back to Lincoln in 2005 to help care for their parents.
"We love Lincoln, and the city's only become better over time!" says Cathy. "There are so many new things to see and do, and the Bryan College of Health Sciences is a marvelous facility."
During the Hershbergers' college years, Cathy's parents lived in O'Neill, and Greg's parents lived in Milford. Today Cathy's parents and twin sister are in Lincoln, and Greg's mother lives in Seward. Those family ties convinced the retired couple to move back and split time between the Capital City and a home in Arizona.
"Since retiring, we've had time to help care for our parents, and we've been able to participate in a lot of church-related activities," Greg notes. "For instance, we just returned from a mission trip to Kenya, and we've been on teams that helped after Hurricane Katrina and natural disasters in Cedar Rapids, Iowa, and Joplin, Mo."
Although serving others has always been important to the Hershbergers, a recent situation completely changed their timetable.
Earlier this year, Greg's father was having heart surgery, and that convinced Greg and Cathy to reevaluate their life's priorities.
"That's why we decided to contribute part of our current assets to begin the scholarship right now — so that today's students can benefit — but we've also made arrangements so that after we die, funds have been set aside to make sure the scholarship is endowed and continues to help tomorrow's students and their future patients," Greg concludes. "This is how we're giving back."
To find out how your gift can support Bryan Health, please call major gift officer DeEtta Mayrose at 402-481-8605 or email
DeEttaMayrose@bryanhealth.org
for more information.