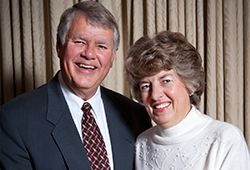 Lynn McKeag, retired after 40 years of nursing, remembers what it used to be like at times, when trying to locate a vein in infants and small children.
"Having spent 40 years in the nurseries of both the West Campus and East Campus of Bryan Health, a few situations presented when I assisted in finding an infant's vein for an IV. We spent a lot of time training to find veins in little babies – we could stand over the baby for a long time trying to find a vein," she recalled.
In fact, there were times when Lynn was called during her days off to come in to the hospital to help, because she had become so adept at finding those little veins.
It's fitting then, that Lynn and her husband Bruce, a retired life insurance underwriter for State Farm, would allocate a gift to the Bryan Foundation for the purchase of a vein viewer, a piece of equipment used on our childbirth units, that makes finding veins in babies so much easier.
"Most institutions of public service, like universities and hospitals, really need the help of the public," Bruce says. "If people are able to give, these gifts really do make a difference." The couple also has designated a planned gift to the medical center upon their death.
When Lynn, who now is a Bryan volunteer, and Bruce learned of the opportunity to contribute to the Bryan Foundation, she said her thoughts went immediately the vein viewer.
"I realize the importance of quickly finding a vein and successfully establishing a route for medications into the blood stream," she says. "Success rate on the first try also gives our parents greater satisfaction and comfort. In infants, but especially those born before their due date, we may also start IVs in the hands, feet or scalp. An IV may be necessary in providing nutrition, fluids and medications. The small delicate veins are not easy to access when they are deep within the skin and cannot be seen. Accuracy and efficiency in a timely manner is extremely important."
Lynn was among the first nurses to work in the Bryan neonatal intensive care unit (NICU) when it opened in 2008. It was, she said, a dream fulfilled. "I was very thankful for the opportunity to work in the NICU," she says.
Lynn and Bruce spend part of their winters in Arizona; in a telephone conversation she talked about why giving back to Bryan was important to her. "I worked at Bryan for 40 years, she said, and both of our children were born there." Also, she said, Bryan provides an opportunity to work in a positive, healing environment.
"We look at this as a way of paying it forward," she says. "My professional career at Lincoln General and BryanLGH (now Bryan Health) was truly a wonderful experience," she says. "I am happy to give back to the hospital through the Foundation so that our patients can experience our pursuit of excellence."