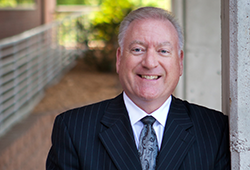 As a lifelong Lincoln resident, Mark Stephens knew that when it came time to take care of his estate planning, he would support local non-profits.
"Since I'm a local, Lincoln guy, I want to help and support entities within Lincoln," said the president of longtime Lincoln business, Bob Stephens and Associates. "Lincoln has been very good to me and to my family for years, and I think it's important to give back to the community where you've lived and worked for your whole life."
When he started working with his attorney to start the process, they talked about the potential for beneficiaries and Bryan Medical Center came to mind. "I have a longstanding relationship with Bryan, having done business there for years. I've developed a lot of friendships and relationships so it's kind of my home turf."
But even more, he said he thought of his maternal grandfather, Ted Lundt, who suffered from Alzheimer's disease. "I just remember how sad that was, and how difficult it was for our family to see such a talented, intelligent man - a man I looked up to - go downhill with that disease. It was sad and horrible and made a very permanent impression on me."
That is why Mark has dedicated a portion of his estate to Bryan. He has worked with the Foundation team to develop an approach to funding that he feels very comfortable with and that will target areas of his specific interest: Helping families affected by a diagnosis of Alzheimer's, and care givers who work with such patients and families.
"I just thought, wouldn't it be great if I were in a position - and I'm not going to make a huge impact - but with what I can do, to help someone or some family down the road deal with or help prevent or lessen the burden of Alzheimer's," Mark said. "That's powerful - and I'm all for that."
Mark said he appreciates how the Foundation is working with him to make sure his gift is allocated to his specific interests. "I'm asking a lot of questions and they are doing a lot of research," he said. "They aren't taking this for granted, and I'm very appreciative that they are making sure the funds go where I want them to go: helping Alzheimer's sufferers and their families on a local level."