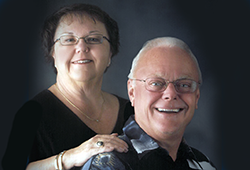 Dick and Kathy Campbell are no strangers to Lincoln, as longtime owners of the family business, Campbell's Nursery and Garden Centers. The two also are very committed in the area of public service and giving back to the Lincoln Community. It would be difficult to list all of the ways Dick and Kathy have had a hand in helping shape Lincoln into the vibrant community that it is today.

Above and beyond the beautification of Lincoln through the nursery and garden centers, Dick is a member of the 2015 Vision for Lincoln's Growth and Future, and past chair of the Lincoln Chamber of Commerce. Kathy has been active in government and in the care for children – she is a Nebraska State Senator and also was a teacher and executive vice president of CEDARS Home for Children Foundation. Together they share a passion for health care services, and believe that health care goes hand in hand with economic growth and education in making – and keeping – a community vital and a livable place.

That is why Dick and Kathy continue to make time for Bryan Health. Kathy serves on the Medical Center Board of Trustees, and Dick currently serves as the chair of the Bryan Foundation Board and on the Health System Board of Trustees. As the chair, he helped publically announce the Bryan Foundation comprehensive campaign in May: b2020 – Choose Your Impact. In addition to their volunteer service at Bryan, they became members of the William Jennings Bryan Society with their estate gift to the b2020 campaign to support the future of Bryan.

"We really like to give back, it's that simple," Kathy says. "And, we believe in the mission of Bryan Health and the impact the organization and its network can have on the well being of Nebraska and beyond."

Adds Dick: "The city of Lincoln is experiencing an historic period of growth. The Foundation Board of Trustees recognizes it must be poised to meet our health care needs now, and prepare for future needs. Bryan's b2020 will allow those able, to choose their impact, be it for technology, educating student nurses or allied health professionals, programmatic support for clinical areas and outreach or helping with buildings and facilities. We are very excited about this campaign."