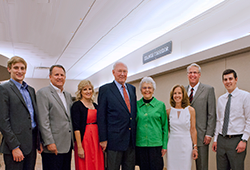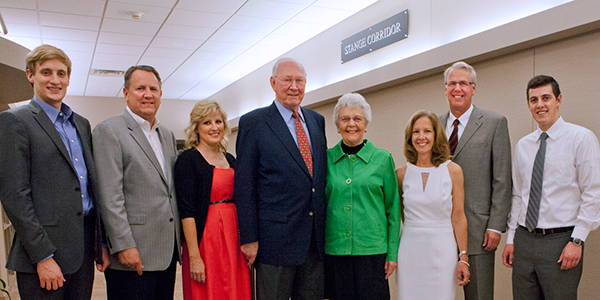 The next time you enter Bryan East Campus and proceed toward the Bryan Art Gallery, the cafeteria, the visitor elevators, or other areas connected by the main north-south corridor, you will be walking in the Stange Corridor.
The Stange Corridor honors and recognizes the financial support of Lincolnites Jim, a retired architect, and Suanne Stange, who have been longtime Bryan supporters.
Their latest gift is significant. A portion of it will endow one of the Bryan College of Health Sciences' most impactful scholarships, and an even more generous portion is designated to future renovations at Bryan Health.
The Stanges have long admired the work done by Bryan employees, as evidenced by their generous support and service. Suanne has in the past volunteered for then Bryan Memorial and Lincoln General causes, and Jim currently serves as the past chairman of the Bryan Foundation Board of Trustees. It was during his tenure as chairman that the Bryan Foundation Board of Trustees endorsed launching b2020 Choose Your Impact, a $40 million comprehensive campaign announced on May 31 .
Suanne and Jim share an affection for the hospital. They both have been patients at Bryan, and their son, Wade (now an architect at Davis Design), was born at Bryan East Campus.
"Volunteering was one of the highlights of my life," Suanne says. "I have such a warm feeling about the place. Bryan helps the entire community and it is a very worthy organization."


Jim and Suanne were among the first donors to Bryan's Fine Line Campaign, which raised money for the new Bryan Independence Center, and the first Foundation Trustee who stepped forward with a major gift once b2020 was endorsed. However, their involvement with Bryan goes well beyond gifts of time and treasure. Behind the scenes, Jim's work has touched Bryan, too.
Jim was a principal in the architectural firm Davis, Fenton, Stange and Darling, now known as Davis Design. One of his specialties was health care design. He traveled the country with past administrators and board members and identified the 'pod' concept that was incorporated at Lincoln General Hospital. During Jim's tenure, the firm also improved the physical appearance and efficiency of Bryan Medical Center to meet a changing health care landscape. Adding an east wing at the Bryan East Campus in 1957 was the first of many big hospital projects for Jim.


"When technology beckoned, we had to answer. Bryan's commitment to the health of our community was impressive then, and it still is."
It is so fitting that the majority of their gift will support a future capital project, since his fingerprints are all over every major building project of the past 50 years.

Jim adds, "It was my privilege to begin working at Bryan with Gene Edwards and then with Lynn Wilson and now with Kim Russel, the current President & CEO of Bryan Health. For us, giving to Bryan was a natural thing to do," he adds. "Bryan is a treasure for our community. When we retired, we did an estate plan and there was no question that we would include Bryan among the entities that we would give to."