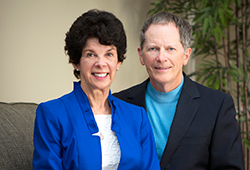 Giving back and community service just may be in Dr. Chuck and Carolyn Gregorius' DNA.
The Bryan Foundation recently visited with the retired anesthesiologist and his wife to learn more about their decision to include the Foundation in their estate plan, and learned that this couple has been giving to the community in one form or another for years. Carolyn, with her son's schools in early days, and now with local organizations such as the Lancaster County Medical Alliance and Lincoln Literacy.
Chuck currently serves on the Bryan Foundation Board, and has served over the years on both the Lincoln General and Bryan Health boards, as well as financial support to varied foundations.
"It started at Lincoln General, where I was chief of staff," he recalls. "We started giving to the General's Club (the Lincoln General Hospital Foundation) right off the bat. It was a matter of self-preservation back then. I thought, 'this is where I'm making my living, so I'm going to support it.' The longer I worked there, the more dear to my heart it became," he continues. "It wasn't just my source of income, it was the people who were there. From the administration to the staff and to my practice partners – it was an important part of my life."
From the day the two were married, they valued saving for the future. "Our parents taught us that – live within your means and save for your future – that's just the way we were brought up," he says.
The couple says that a planned gift to support Bryan was important to them both.
"It's simply a matter of giving back, as cliché as it sounds. It's really how we feel," Carolyn says. "Bryan and Lincoln General have been really good to us."
Says Chuck: "We've got a lot to be thankful for and as far as we're concerned we have a lot of good reasons to give back. Not only to Bryan, but to the community," he says. "And if you support Bryan, you support the community. It's all connected. Some of our philanthropy is directed to the city of Lincoln, but the hospital is a very important part of the city, not only as an employer, but for the health care it provides and for its leadership in health care."
The Gregorius' are still working out the details of how they'll allocate their gift. They'd like some of it to go to health care education, perhaps a visiting lectureship that would bring health care experts to Lincoln.
Another wish is to see more physicians getting involved in leadership and support. Charles notes that strong, locally owned hospitals are becoming rare and physicians have a stake in their success.
"Boards are made up of people with various expertise and who understand the importance of philanthropy. I hope that physicians can learn that they have that kind of role to play. Some have been involved, and I hope they continue. From my personal experiences, I've loved being in organizational leadership. The more I got into it, the more I enjoyed it. It's kind of like a bug that gets in you and you can't get rid of it," he says with a grin.