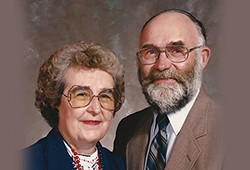 When you have an amazing experience, you naturally want to give back to the organization that made it possible.
Dee and Duane Fjellin began their lives together after mutual friends introduced them at the Fremont Bowling Alley.
After their wedding in 1983, Dee gladly joined Duane, becoming a farm wife on the family homestead between Wahoo and Malmo, Nebraska. The farm had been in Duane's family for decades. Duane was a member of the American Legion Post and both were members of the Lutheran church in Malmo.
When Duane's health started to decline in the early 2000s, the Fjellins sought care at Bryan Health.
"Duane spent a lot of time in the cardiac unit," says Dee's daughter Marilyn Kruger. "Toward the end of his life, he only had one working lung, which put a great strain on his heart. The team at Bryan cared for him very well, doing everything possible to help him achieve a good quality of life as his congestive heart failure progressed."
Dee passed away in 2008, and Duane passed away in 2014. As an act of gratitude, they each left legacy gifts to the Bryan Foundation. Funds were designated specifically to go toward the cardiac unit, as well as to nurse education.
"They wanted to be able to give back to the people and organization that made such a significant difference for them," Marilyn says.
"They were a loving couple and wonderful to be around. Their legacy will live on at Bryan Health."