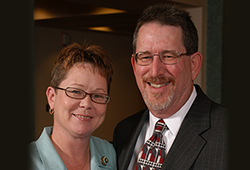 Like many people, Jeff and Amy Burg had put off their estate planning. When the opportunity arose for them to make it a focus by working with Thompson and Associates, the couple took the plunge. Now, they say, it feels like a weight has been lifted.
Thompson and Associates' Johni Hayes helped Jeff and Amy narrow down the things that were important to them and what kind of legacy they wanted to leave. They say it was not taken lightly, but rather it was a process of discovery and reflection.
Designating some of their estate toward health care was an easy decision for the Burgs. Not only have the two worked in hospitals - they met while working at a hospital in Michigan, where they're both from - but also because they have family members who are nurses, physicians and a physician assistant. Jeff now is Bryan's director of supply chain.
Part of their gift has been set aside as a scholarship for a Bryan College of Health Sciences student, and the other portion will go to the Bryan Employee Caring Fund.
"Health care is a good, honorable profession, and we understand the struggles of someone trying to get through nursing school," Amy says. "We saw family members go through it and want to help others in that situation."
They also have great regard for the Bryan Employee Caring Fund, which was established to help employees in crisis.
"This fund is really important," Jeff says. "I've seen it in action, how it can impact someone's life. I feel that the Employee Caring Fund is something that sets our organization apart. Employees who are in a place to help their co-workers in need - that is very powerful, and it's part of what makes Bryan so special."
The Burgs encourage others to start planning their own legacy.
"We had a few medical scares and losses recently, and it hit home that life is unpredictable," Amy says. "We realized we needed to get our affairs in order and make sure our legacy was how we wanted it to be."
Adds Jeff: "The whole planning process was a great experience, and we would recommend it to anyone."
To learn how you can support the work of Bryan Health, call 402-481-8605.