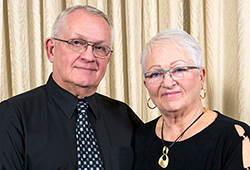 Our contribution to Bryan Medical Center is focused on mental health, so that as a family, we could help other families facing similar concerns that we experienced for many years.
That attention was due to my life's biggest surprise, that of my son inheriting the disease of addiction at a very young age. Many generations of my family suffered from addiction, but I never thought it would touch my life so intimately. My son received treatment at the Bryan Independence Center in his early teens and staff there provided a great deal of education and insight for our family. Mental health and addiction are gaining much needed focus in our community and state and our hope is that our contribution will help that focus continue to grow.
My son ultimately lost his fight against addiction in 2008, and after that happened, we decided as a family to give something in his name for others suffering from this horrible disease. We wanted to support those going through the journey toward an addiction-free life. My son was very musically inclined and it seemed that sometimes that was his only solace. As a result of that we chose to contribute to the new music room as part of the services in the Bryan Independence Center. Our hope is that others will find that same solace, to have inner peace when things around them are chaotic and ever-changing.
The story did not stop there. Bryan offered us an opportunity to consult with a financial planner that educated us on how we could financially plan for the future. This series of meetings resulted in our doing what is best for our family now and in the future. We learned that planned giving can be a real tax advantage for our family. In the future we will contribute to the Bryan Foundation to provide education funds to the mental health staff for additional education not otherwise available. We didn't want the money to be eaten up in administrative costs, but after discussions with the Foundation team we are completely comfortable knowing that all the money we give will be used as we have agreed upon in the future. This gave us added peace of mind and allowed us to be very comfortable with our decision to contribute.
Bryan Medical Center was my (Debbie's) professional home for 30 years. My career provided my family and me with many benefits and opportunities. This was a family affair as my daughter worked at Bryan for 20 years and my son worked there as well. Now as community members and not employees, we are proud to continue to support Bryan Medical Center.
Deb and Dean Fisher, and Jill, Spencer and Kaci Quinn