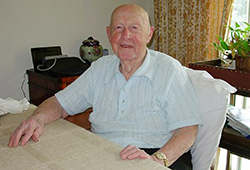 The way Bryan Health nurses and staff treated Carl Ander and his family 16 years ago convinced him to help tomorrow's caregivers.
"I was hurting in the back so much that I went to the emergency at Bryan," he says. "We found out they needed to surgically remove a disk in my back."
It was the beginning of a 108-day journey to better health, which included a stay at the former Bryan Memorial Hospital and then follow-up care at then Lincoln General Hospital.
During that time, a staff member from the hospital, who lived near Ander, joined other neighbors in taking turns transporting his wife, Jane, to and from Carl's bedside.
"She didn't drive, so we really appreciated that," he says. "I received excellent care, and the resulting good feelings toward Bryan led my wife and me to remember them in our wills for after we're gone."
Jane died in 2004, a few months after the couple's 40th wedding anniversary, but her legacy lives on through the Jane Ander Memorial Nursing Scholarship. At a donor-recognition luncheon, Carl discovered that a neighbor was one of the first recipients of that scholarship. Carl also made a planned gift that, upon his death, will establish a nursing scholarship in his name.
"I have a good, hearty feeling for the whole hospital as a result of the help I got at Bryan, and I'm glad to be able to help the nurses of the future," he says.