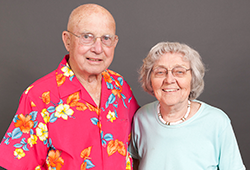 Vi and Helen Berst of Lincoln donated proceeds from the sale of rental properties to help Bryan Health build a future for nursing students. Their charitable remainder annuity trust will be used for nursing scholarships in the Bryan
College of Health Sciences
.
"We live in the Bryan neighborhood, and we've spent a lot of time here as patients over the years," Vi says. "We have a lot of connections to the hospital. Both of our children were born at Bryan, our daughter Connie graduated from the nursing school, and our son Chuck is an employee in radiology."
Vi has undergone double bypass heart surgery and had his knees replaced over the years. "I'm 92 and still pretty active," he says. "And I attribute a lot of that to the care I've received at Bryan!"
He was a farmer near Friend before serving in World War II. After the war, he settled in Lincoln and met Helen, who worked at the VA Hospital.
"I worked for a feed company for several years, then in the auto parts business for more than 40 years," Vi says. Helen was a 32-year employee at Bryan, where she was a supervisor in the distribution center, and both of them have been longtime volunteers at the hospital.
He also serves as an usher and committee member at his church and visits veterans on their birthdays at local retirement communities.
"We still like to help where we can as volunteers," Vi says. "And we're happy to contribute to scholarships for the School of Nursing."