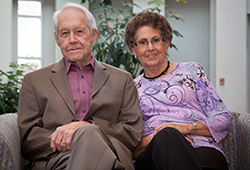 Harold and Marilyn Pfeiffer have been on the receiving end of giving, in the form of excellent care they experienced on many occasions at Bryan Health. Now, they're giving back - by designating the Bryan Foundation as the beneficiary of an annuity established by Harold and Marilyn in 1990. Their gift is earmarked for a scholarship to help a young student become a nurse.
"We want to help those children who can't afford nursing school - they need help," Harold says. "Who takes care of you when you come to the hospital? It's nurses. I know doctors do their part, but in the hospital it's the nurses who take care of you."
The Beatrice couple, who just celebrated their 24th wedding anniversary, simply say they believe it's important to give back, and they want to give what they can to a worthy cause. Both have had surgeries at Bryan- and Marilyn's son-in-law, who was visiting from another state, was treated in the emergency department for what turned out to be a stroke. Marilyn says the Bryan team saved his life.
"They didn't question a thing, she recalls. "He was unresponsive, and they just took him in immediately, they just went to work. In all of our experiences there we just feel the staff went above and beyond."
The Pfeiffers are matter-of-fact about their gift. "We'd just like to give back because we received what we believe is a lot from the hospital," Harold says. "And we feel it's a good organization and want to help out as much as we can."