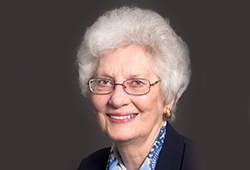 Marilyn Baker is capping her 50-year nursing career by helping ensure future students are able to complete their education.
She grew up on farm near Benedict, Neb., and began her career straight out of high school, enrolling at age 17 in the Lincoln General Hospital School of Nursing.
"After graduating in 1960, I worked at Lincoln General [now the Bryan West Campus] for five years; then I came over to work at Bryan East Campus for about 10 years," she says.
Marilyn was a medical/surgical nurse at first, although most of her early nursing career at Bryan involved caring for psychiatric patients.
"Then I worked at the Madonna Rehabilitation Hospital for a little over 30 years," she says. "I worked with stroke patients and with patients recovering from traumatic brain injuries - that was my specialty."
Later in her career, she became a case manager, completing patient assessments that helped determine government reimbursements to Madonna.
"I liked hands-on nursing," Marilyn says. "Of course later in life you're not always able to meet all the physical demands of being a nurse on the floor, but you can apply that knowledge in other areas, as I did as a case manager."
Marilyn earned a Bachelor of Science in Nursing at Nebraska Wesleyan University and proudly notes that, after earning certifications in rehabilitation nursing and in case management, "At one time, I had 12 initials after my name!"
Why did this retired nurse choose to help Bryan's future students?
Her father was one of 14 children - the 12 brothers were nicknamed the "Baker Dozen" - who grew up in the Benedict area. Marilyn's uncle Oliver Baker was a long-time patient at Bryan and established a scholarship, and her favorite aunt was a nurse at York General Hospital.
"She really was an inspiration to me and influenced my career choice. I knew from about the fifth grade that I wanted to be a nurse," Marilyn says.
"I've always thought, since nursing was very important to me and it was such a struggle to find the funds for me to go to nursing school, that maybe some day I could help out others. I wanted to leave some money for a scholarship to Bryan after I had died - and then I thought, why wait?"
She made a contribution to initiate the Marilyn Baker Nursing Scholarship at the Bryan College of Health Sciences in 2012 and, by designating a planned gift from her estate to Bryan, that scholarship will continue after her death.
"I'm so glad I did this, as I've been able to meet and correspond with the nursing student who was the first scholarship recipient. I hope I'm able to meet many more of them," Marilyn says.