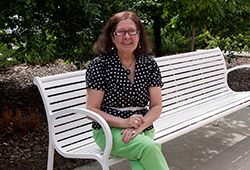 If your family welcomed a new baby this year at Bryan Health, you may have encountered a petite woman with dark hair, serving the patients and staff of the women's and children's health tower. While you might have noticed her optimistic attitude and warm smile, you'll certainly have noticed her work — clean rooms, orderly linens and spotless countertops. Meet Nelis Lago: longtime environmental services employee at Bryan Health and one of the newest members of the William Jennings Bryan Society.
For more than 23 years, Nelis has been working in environmental services for Bryan Health. Her current assignment has landed her in the women's and children's health tower five days a week.
"The tower is simply beautiful," Nelis says. "Plus, I get to see cute babies every day!"
Nelis was born in Uruguay and was living in Argentina when she decided to visit her sister in the United States nearly a quarter century ago. She discovered a love for the Cornhusker State and considered staying here as the farming landscape and friendly neighborhoods reminded her of her home country.
A friend worked at Bryan Memorial Hospital and encouraged Nelis to apply for a job in environmental services. "I was excited for the chance to do something like this. I knew it would be a good place to work," Nelis says.
During a career history that spans back to the late 80s, Nelis has witnessed much of the growth within the organization — from acquisitions to facility remodels and most recently, the shift to Bryan Health.
"People work hard and continue to make this a better place to work and serve patients," she says.
Nelis realized that she, too, wanted to make Bryan Health a better place for future patients, families and the community by making a planned gift to the Bryan Foundation in her will.
"Bryan has been a big part of my life," she explains. "I've had nice benefits and they've given me an opportunity to build a good life in Lincoln."
The life she is referring to has been built through a dedicated work ethic that overflows into other areas as well — most specifically, her flower garden.
"When I'm not at Bryan, I like to work in my garden and make my yard look nice."
Like an artist with a blank canvas, Nelis carefully tills the ground, selects her color palette of plants and generates breathtaking displays of beauty throughout the yard, bringing a rainbow to the neighborhood around her. Every plant is planned and nurtured with the utmost care. Nelis willingly admits, "I'm a perfectionist. But that's why it looks so good."
Nelis' belief and trust in Bryan goes far beyond making a planned gift. She's seen many changes over the last 25 years and knows that her gift will promote positive change in the areas of greatest need. She also hopes it will inspire others to do the same.
"I'm happy to give. Bryan has helped me and they help many people every day. I know they will use my gift to help others."