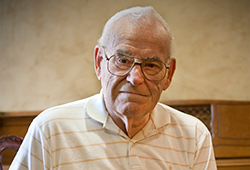 Retired accountant Lewis Cooley is supporting future health care in his community with a planned gift to Bryan.
He says, "I figured this was a good cause, that I wanted to support, and I've enjoyed working with the Bryan Foundation staff to set this up."
Lewis, who's 89, and his five older sisters grew up on a farm near Waverly.
"I was active in 4-H quite a bit and in the Dairy Club and a Swine Club," he says. The modest man smiles when quietly mentioning he won "maybe a few" blue ribbons from showing livestock at local fairs.
But health issues impacted the family farm while Lewis was a young man.
"My father had a lot of heart problems and died of a heart attack when I was only 19," Lewis recalls.
"We had moved to Walton, and my responsibilities in helping run the farm had kept me out of World War II, so farming seemed to be my future — but in 1957 I needed back surgery."
He had the surgery at Bryan, and when his brother-in-law moved to the farm, Lewis enrolled in the former Lincoln School of Commerce.
After graduating from the business college, he began his career as a cost accountant at the Goodyear Tire and Rubber Co., although he's always maintained an interest in agriculture.
"I enjoyed my work at Goodyear and made a lot of lifelong friends through the company, my church and in the community," he says. Today he likes playing cards — especially bridge and poker — at the retirement community where he lives in Lincoln.
What are his ties to Bryan Health?
Besides Lewis' back surgery at Bryan, his wife, Doris, and sisters were patients — and one sister's four children all were born at Bryan.
"In those days it was usually a week or 10 days in the hospital when you had a baby," he points out.
The Cooley family history also includes a brush with the hospital's first benefactor, statesman and famed orator William Jennings Bryan.
"My father told the story of the day he saw Bryan, back in the early 1900s, when William Jennings Bryan was traveling to Lincoln to speak on the 4th of July," Lewis recalls. "But when the train arrived in Waverly, there was no Bryan on board. There was panic for a while until an automobile pulled into town - with the Congressman riding inside.
"So, Dad got to see William Jennings Bryan - and for many people in the crowd, it also was the first automobile they'd ever seen - and later some of the men had to help push when the car got stuck crossing the railroad tracks."
Much has changed in transportation and in health care since those early days in Nebraska. Thanks to supporters, like Lewis Cooley, the future remains bright for Bryan Health and patients in our region.
If you're interested in giving to support Bryan Health, please call DeEtta Mayrose at 402-481-8605 or email DeEtta.Mayrose@bryanhealth.org for more information.