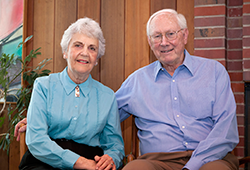 Retired architect Jim Stange and his wife, Suanne, have a long association with Bryan Health — and their generosity is helping students get the education needed to care for tomorrow's patients.
After college, Jim joined Davis and Wilson in 1954 — its architects were already famous for such landmarks as Memorial Stadium, the Stuart Building and Lincoln High School. Later it became Davis, Fenton, Stange and Darling, and today it's known as Davis Design.
Jim Uses His Architectural Skills to Benefit Bryan
During Jim's tenure there, the firm improved the physical appearance and efficiency of Bryan Medical Center to meet a changing healthcare landscape. Adding an east wing at the Bryan East Campus in 1957 was the first of many big hospital projects for Jim.
"We worked with President Gene Edwards, who was interested in responding to the needs of cardiologists and heart patients, when we designed that addition," Jim says. "When technology beckoned, we had to answer. Bryan's commitment to the health of our community was impressive."
In the 1960s, he helped design the "pod" scheme for patient care units at Lincoln General Hospital (now Bryan West Campus). Movie fans may remember seeing one of those centrally located nursing stations at Lincoln General in the movie Terms of Endearment.
While at Davis, Fenton, Stange and Darling, he also worked on the 1970s master plan for Bryan Medical Center. "The administration was always forward thinking, especially when it came to heart care," he says.
Donating Time and Treasure
He's been on the Bryan Foundation board for five years and has begun his term as that organization's new chairman.
Jim adds, "It was my privilege to begin working at Bryan with Gene and then with Lynn Wilson and now with Kim Russel, the current CEO."
As a longtime volunteer, Suanne shares Jim's affection for the hospital. The Stanges are members of the W.J. Bryan Society, indicating significant contributions to the Bryan Foundation, and regularly participate in the Bryan College of Health Sciences Scholarship Luncheon.
They have both been patients at Bryan and their son, Wade (now an architect at Davis Design), was born at Bryan East Campus.
Suanne says, "It was one of the highlights of my life. I have such a warm feeling about the place. Bryan helps the entire community and they are a very worthy cause."
"For us, giving to Bryan was a natural thing to do," Jim agrees. "Bryan is a treasure for our community. When we retired, we did an estate plan and included Bryan among the entities that we would give to. Contributing to scholarships is important — it helps make sure there will be great nurses to care for us in the future."