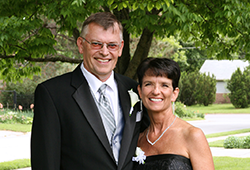 Diane Kathol of Bryan College of Health Sciences has a long history with the college. In fact, she holds the record as the youngest-ever faculty member.
"I was raised on a farm near Winner, S.D., and attended the nursing school at Mount Marty College in Yankton, S.D., in the 1970s," Diane says. "My first weekend in college was Labor Day weekend. I was far from home, and my roommate invited me to go to her hometown and offered to set me up on a blind date - and it apparently worked out."
Did it ever!
Diane and Larry Kathol began dating that weekend - he was a draftsman for the Nebraska Department of Roads - and their courtship continued as he became a street lighting designer for Lincoln Electric System. They've been married 38 years now.
"We married after I graduated, and I moved to Lincoln to begin my nursing career. I worked in surgery at Lincoln General Hospital (now Bryan West) for two years before becoming an instructor at Bryan School of Nursing in 1977," Diane says. "I wondered at the time, what did I know at age 23? Did I have enough experiences to share?"
Thirty-six years later, if you ask her students and colleagues, the answer is clear. She's respected as a teacher and administrator and has been instrumental in helping establish new programs.
In the ensuing years, Diane earned a master's degree in nursing from Andrews University of Berrien Springs, Mich., as well as a master's degree in education with a major in health education at the University of Nebraska-Lincoln. Today she's Dean of the School of Health Professions at Bryan College of Health Sciences.
"I've always been very proud of what we do and the graduates we turn out," Diane says.
In addition to Diane's career at the college, the Kathols have another strong link to Bryan Medical Center - their two sons were born here.
Now Diane and Larry are giving back. "We wanted to make a planned gift, and it seemed very natural to include Bryan in our will," Diane says. "This gift will go toward scholarships at Bryan College of Health Sciences."