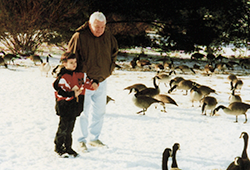 Once sober, the late Wendell Kuster wanted to give back. He gave back to his family the many good years lost while under the influence of alcohol. He gave back to the alcohol recovery community, through his dedication to Alcoholics Anonymous and to sponsoring those who needed it. He volunteered at the People's City Mission.
So it was important to his wife, Wilma, and their three daughters, Connie, Charleen and Judy, to give back, too. The Bryan Independence Center recently was the beneficiary of their $34,000 deferred gift. Wendell became sober through the help of the Independence Center long ago.
"We had the opportunity to give, and because the Bryan Independence Center was such an integral part of our dad's life and our family, it was obvious that the money would come to Bryan because of what we went through," Charleen says.
The sisters say the program changed their family. The two oldest, Connie and Charleen, had already moved out of the house. The youngest, Judy, was still in high school.
"Dad's alcoholism had a major impact on our lives. It's the story of all families who have had alcoholism in their lives. We were a broken family. There were good times and bad times," Charleen says.
Once their dad recovered, the family worked to mend their relationship. "The drinking wasn't there, but there were still family issues that we were dealing with. He was very dedicated to continuing with his sobriety."
And, Judy noted, the tools Wendell learned in his recovery process gave him coping skills and helped him accept things that happened later in life, such as his Alzheimer's diagnosis and having to give up golf.
The most notable joy for the sisters was watching their dad play with his grandchildren.
"He would take the boys and get dirty, do boy stuff. That was his passion to be able to do those things. He loved to take the grandsons out into the fields in an old car - we called it the puddle jumper - and taught them how to drive. It was nice to see him laugh and be relaxed. He may not have been around to do those things if he hadn't gotten sober," Connie says.
The other joy for the sisters was realizing just how tight their parents' relationship really was.
"Our parents had a very loving relationship that we saw glimpses of when we were kids, but over the years, after he became sober it became very evident that they had a very strong bond and love for each other and cared for each other," Charleen says.
"We give our mother a lot of credit for having the strength to push our dad to get help, and in the end it was nice to see him laugh and be relaxed," Connie says.
"The Independence Center changed our lives, and we hope this gift in some way helps other families with addiction - that they can heal and establish healthy relationships and happy memories."