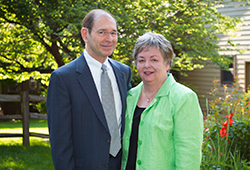 Dr. James Griesen and his wife, Margaret, are big fans of higher learning in the Cornhusker state.
Jim is a professor of educational administration at the University of Nebraska-Lincoln and a former vice chancellor for student affairs at UNL. He is also chairman of the Bryan College of Health Sciences board of trustees. Jim has been active in Bryan activities since the 1990s and helped raise funds to expand the college in 2005.
Margaret recently retired from the Lincoln Public School System's Gifted Student Mentor Program.
Heart Surgery Leads to a Scholarship
A hospitalization several years ago at the Bryan East Campus, where Margaret underwent heart surgery, led to a commitment to help future nursing students.
"I was very pleased with the nurses, so we decided to fund a scholarship," she says. "There is a tradition of excellence and high quality clinical care at Bryan and the Bryan College of Health Sciences. The talented faculty and low faculty-to-student ratio result in high quality graduates and exceptional care for their patients."
Joining With Other Farsighted Donors
The Griesens are members of the W.J. Bryan Society, which recognizes those who have made planned gifts over the years. They enjoy meeting their scholarship recipients at the annual scholarship luncheons at the college.
"We support Bryan because it is rewarding to know you've had a role in developing positive change in someone's career," Jim says.
Never a Dull Moment
The couple met while Jim was an administrator at The Ohio State University. After 45 years of marriage, they say there's never been a dull moment!
Both remain active in the community. Jim is the district governor-elect for Rotary International and a vice president of Lincoln's Symphony Orchestra board. Margaret is active in the Heritage League, the Lincoln Symphony Guild and the UNL Women's Club.
They've raised four children and have six grandchildren.