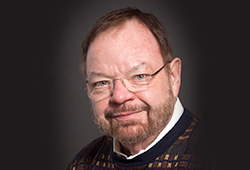 Jim Cuddeford of Lincoln served Bryan Health and the School of Nurse Anesthesia at Bryan College of Health Sciences as a certified registered nurse anesthetist, educator and administrator for more than 30 years. Now, thanks to his generous planned gift, Jim's legacy will continue far into the future.
Jim grew up in Genoa, Neb., and came to Lincoln to get his nursing certification in 1967.
"There were very few men in the program in those days, especially in intensive care nursing," recalls this nursing pioneer. Jim continued his education and graduated from Barnes Hospital School of Nurse Anesthesia in St. Louis, Mo. He also earned a master's degree at Webster University in St. Louis and taught at Barnes-Jewish Hospital for 10 years.
Jim's education and clinical experience brought him back to Lincoln in 1981 to work in the Bryan School of Nurse Anesthesia, and in 1986 he became the program's director. He says, "I found teaching to be so enjoyable, and being able to practice and teach has been the perfect balance in my life."
Although Jim retired from teaching in 2011, his dedication to help others continues to keep him engaged. He serves as a member of the Bryan College of Health Sciences Advisory Board and also dedicates time to provide patient care as a registered nurse and nurse anesthetist at his hometown Genoa Community Hospital.
Jim is one of the newest members to the William Jennings Bryan Society. He's designated the Bryan College of Health Sciences as a beneficiary, so his planned gift will continue to provide opportunities for students for many years to come.
"The college is very important to me, and I have enjoyed working with and mentoring nurse anesthesia students from all over the country," Jim adds.