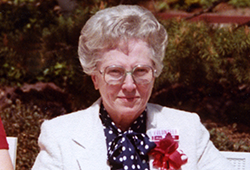 Friends of the late Eleanor "Ellie" Engleman Dixon remember her infectious laugh, her generous nature and her commitment to Bryan Health.
Thanks to a planned gift that Ellie included in her will, those attributes will live on.
Ellie was 98 when she died Jan. 15, 2013. This native of Litchfield, Neb., graduated from Nebraska Wesleyan University and was a Bryan volunteer and a longtime member of First United Methodist Church, P.E.O. and Willard Sorority. Her husband, Lincoln businessman Don Dixon, and their son, Bruce, preceded her in death.
Ellen Beans, director of Bryan Volunteers and Customer Care, notes that Ellie and Don were devoted to each other, their son, family and their many friends.
"They didn't know a stranger," Beans says. "Every December, they invited everyone they knew to a party at their acreage in Waverly. Ellie could have been the 'Entertainer of the Year.' She had a Christmas tree in every room, decorated in the theme of that space. She and Don truly enjoyed welcoming guests. It was magical."
Ellie brought that playfulness to her role as a Bryan volunteer.
"She truly was a happy person who enjoyed life," says Beans. "For many years, she teamed up with another volunteer to serve on the Shopping Cart on Wednesday afternoons. Everybody looked forward to her visits throughout the medical center. Ellie had a laugh that was just contagious - she created fun wherever she was!"
Ellie served as president of the Bryan Volunteer Services Board of Directors several times and from 1966 until 2004 chaired many significant fundraising events.
In those years, the volunteers conducted live plant sales, bake sales, arts and crafts boutiques and annual homemade peanut brittle sales to pay for things needed at the medical center. Ellie was in the middle of such efforts, providing encouragement and leadership.
"She was very creative, and she inspired people to want to join in," Beans says. "And Ellie was really good at bringing in the community. I'll never forget my first week on the job at Bryan in 1982. Ellie arranged for a local radio station to broadcast live from the hospital lobby to publicize one of our ongoing information services. Everybody got balloons and snacks and had a ball."
Beans says, "Ellie volunteered at Bryan for almost four decades, and I just know that she served many, many more than the 5,800 total hours we've recorded. She was interested in the volunteers, not in promoting herself."
When told that the planned gift was designated to be used at Bryan as needed, rather than assigned to a specific fund, Beans reflected that it was in keeping with Ellie's personality.
"I have many memories of Ellie, who was a friend to all," she says.