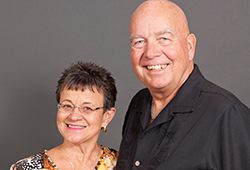 Clarke and Sharon Mundhenke have supported Bryan Health for decades, with an eye toward helping ensure future generations have excellent health care.
"People give to what they value and believe in," Sharon says. "You support what's important to you — and that's what we've done."
Clarke, now a part-time farmer in his retirement years, worked for Bryan as a chaplain and director of pastoral care services for more than 35 years. He says the couple's theological and agricultural background influenced their decision to contribute.
"We both were raised on farms and with faith backgrounds, and we share a principle of stewardship, that farmers take care of the land and try to leave it in better condition for others," Clarke says. "We wanted to help make sure Bryan continues to be the leader in health care."
"We Believe in Bryan"
Clarke started at the former Lincoln General Hospital in 1971 and worked at Bryan for about 15 years before retiring.
"This is a way of giving back," he says. When working at Bryan, Clarke had a portion of his paycheck set aside for the Generals Club fund, and over the years he participated in additional fundraising opportunities.
"We've been blessed and so have been able to make several types of gifts. When a number of people make gifts and those gifts are pooled together, it becomes a significant amount of money to use for the benefit of others," Clarke says.
"There's a lot of joy in giving, to be able to make a difference down the road," he adds. "That's why people do planned giving — so that things you believe in continue after you're gone.
"And we believe in Bryan."