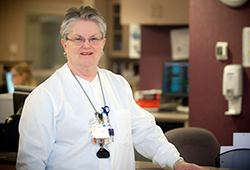 When you get to know Cheryl Rourke, RN, Bryan Medical Center's emergency department manager, you understand why she calls her planned gift to the Foundation a "no-brainer."
"When you're putting together a will, you think of family for sure, but I consider the people I've worked with part of that family and such a huge part of my life. So it just seemed natural to include Bryan," says the Broken Bow native.
Cheryl's entry into the nursing profession was serendipitous; she hadn't planned to be a nurse. When her family moved with the military from Nebraska ranch country to Lincoln after her high school graduation, Cheryl entered college. And she needed a job. It was 1968, and, she says, she was lucky that Bryan Memorial Hospital had a nursing tech program at that time.
"And that was the foundation for the rest of my career," she says. "It wasn't my intent, but I fell in love with health care."
Starting in the medical surgical area and working her way to the intensive care unit, the young nursing tech saw teamwork, dedication and care all around her. She wasn't drawn to nursing by technological wizardry but by the basics of caring.
"I loved learning how to take care of patients, recognizing and meeting their needs. The nurses I worked with were just some of the classiest people I'd ever met. They were so dedicated and everyone worked as a team - the doctors, the nurses, the techs - and we could think for each other. It was that cohesive. Those were the early days of intensive care, and I was there for the first heart catheterization and the first transplant," she recalls.
Cheryl's path went on to include stints in several areas of health care, interspersed with many years of education. When she finished nursing school at the University of Nebraska Medical Center in the 1970s, she first worked in the ICU at Lincoln General Hospital. From there, she went back to Bryan, first in med-surg, then the ICU. She worked there as floor nurse then left for a time to do health planning. During this time, she went back to school and got her bachelor's degree in human development.
When management opportunities arose, she headed back to school again and this time got her bachelor's degree in nursing at the UNMC Lincoln campus. She continued on to get her master's degree in nursing.
Cheryl has been nursing manager in the emergency department since the early 1990s and says it has been a great match. "You've got one foot in the hospital and one foot in the community," she says. "You work with many different agencies - emergency medical services, the Domestic Violence Coalition, to name a couple. There are so many ways you can work with the community to improve health care. I think it's the best of all worlds."
Not surprisingly, Cheryl has earmarked her planned gift for nursing education.
"I continued my education the entire time I was here, because of the support of the nursing managers, directors and supervisors that I had, and the reimbursement that was available as an employee. Those two things really accommodated my professional goals. That's why I was a little more specific about the planned gift going toward education, because education is such a huge part of my life," she says.
Cheryl wants to encourage other nurses to become involved in professional nursing organizations as she was, and to take advantage of those opportunities to continue learning. "I encourage ER nurses to continue their education and get involved in these associations. I think it's really important. I don't know how you can be a nurse in this day and age and not take advantage of those opportunities," she says.