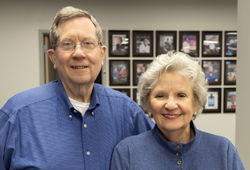 Craig and Devon Ames have been active Bryan supporters for more than two decades. Craig was chief operating officer for the organization from 1988 until his retirement in 2009. They've seen a lot of changes in health care over the years and remain ardent supporters. We sat down with the couple recently to talk with them about their new scholarship at the Bryan College of Health Sciences, the Craig and Devon Ames Scholarship, and why they chose to use the IRA required minimum distribution for this purpose.
Q: What made you decide to use a portion of your IRA required minimum distribution for a charitable donation?
A: We were aware of this rule, that when we reached 70 1/2, (it is now 72) we would have to take this IRA distribution. We also knew that giving some of this money to charity would allow us to save on taxes, but also to support a cause dear to us: health care. We meet with our financial advisor periodically to review our plan, and when we started talking about the distribution, we thought a scholarship would be a great way to give back. To us, it makes so much sense. The federal government requires you to take a portion of your IRA at a certain age and you're going to have to pay taxes on it. By giving it to a qualified charity you don't have to pay those taxes. We believe in paying taxes but not more than we have to!
Q: Why Bryan Health, and why a scholarship?
A: Well, there are several parts to this answer! Bryan is very near and dear to our hearts. It is what brought us to Lincoln; Craig spent the majority of his career here and it's a great organization. A lot of people don't know or appreciate how great the health care is in Lincoln. For the size of the community, the breadth of care and services is excellent.
As for why we chose the College? In the 20 years I was at this organization, I was keenly aware of and thankful for the decisions made by then-president Eugene Edwards and his board, in that they had the foresight to keep the school operating. At a time when hospitals across the country were getting out of education, Bryan hung in there, and we reaped the benefits of excellence in nursing education. We believe that nurses are closest to the delivery of care. They are amazing. So it just made sense for us to make that the area for our gift. What once was a stellar School of Nursing became an equally stellar College of Health Sciences. It provides us with a fantastic source of health care providers.
Q: What would you say to others about using their IRA required minimum distribution for charity?
A: It's kind of a no-brainer. You support something you care about and reduce your tax burden. When you get to a specific age, you have to take the money whether you need to or not, so it just makes sense. We will say that the Bryan Foundation makes all of this very easy to do; they do a great job in helping you make the most of your gifts.
They also make sure to show their gratitude and appreciation, and keep donors updated on the work they're doing. We also enjoy the events, such as donor gatherings and the Scholarship Luncheon. The fellowship is wonderful, and seeing the student recipients with their benefactors is special. You see up close and personal the kind of impact you're making in someone's life. It's just very gratifying. We are usually the last ones to leave these gatherings!